Upon retiring, many older adults start to consider their next steps in life. During this time, it's natural to feel nervous, anxious, and even hesitant about the transition.
Many older adults can live independently until their physical health declines and moving into a retirement community becomes necessary. Some older adults make the decision earlier, and others wait until later.
So, is there a right time to move into a retirement community? The answer is, there's no one right age. The best age depends on each individual's care needs and lifestyle preferences.
What Is a Retirement Community?
Retirement communities provide housing, various lifestyle options, services, and amenities customized to residents' specific needs. The benefits of living in a retirement community can positively impact the quality of life for older adults.
Lifestyle options include independent living, assisted living, and memory care:
Independent Living Plus
Retirement communities aren't only for older adults in their 70s and 80s. Independent living plus is the option for those who wish to maintain as much independence as possible while looking for some assistance.
The benefits of independent living include:
No more tedious chores, such as housekeeping
More time and freedom to do the things you love
Convenience
Strong sense of community
If your level of care changes, you won't have to change your apartment; the care will come to you. An aging-in-place program offers a seamless transition into assisted living or enhanced care without moving out.
Assisted Living
Assisted living helps you maintain some level of independence and assists with activities of daily living, such as eating, dressing, and bathing. This balance ensures you live with ease, comfort, freedom, and stability.
The benefits of assisted living include:
Good personal hygiene
Medication management
Sense of community and belonging
Wellness programs
Memory Care
Memory care is designed for older adults with Alzheimer's disease, dementia, and other cognitive issues. The level of support in memory care includes:
Professional care from a trained team of caregiving experts
Help with daily tasks
Medication management
Enriching programs
Safe environment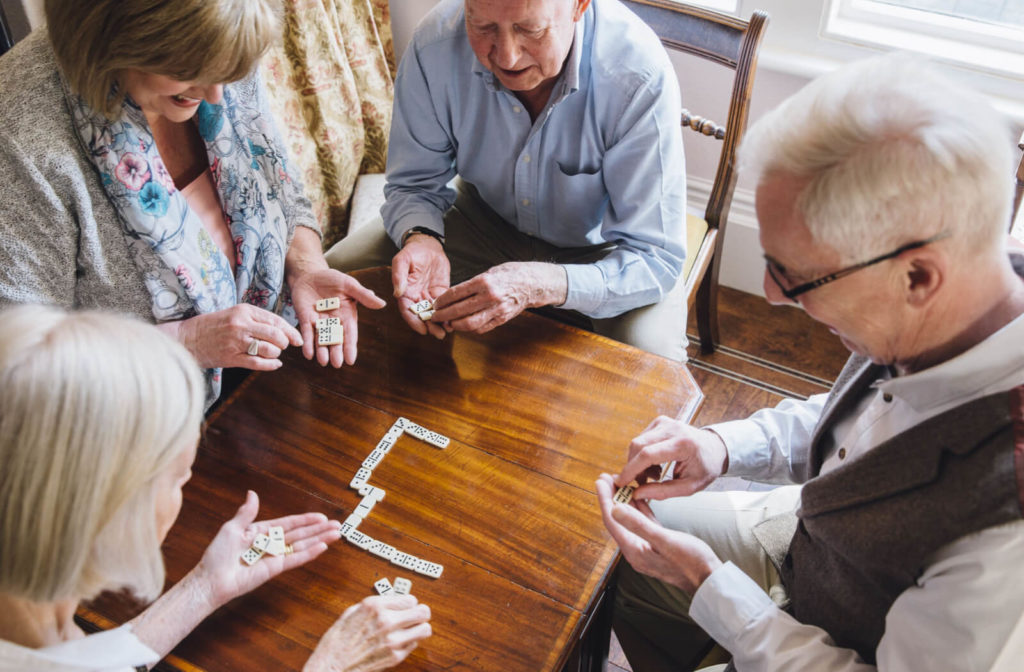 How to Decide When to Move to a Retirement Community
While there is no right age to move to a retirement community, many older adults reevaluate their living situation too late. Usually, only when they require assistance or their physical health worsens.
With various levels of care and independence, moving to a retirement community can benefit you or a loved one with changing needs, support, and a socially enriching environment in which to thrive and grow.
Regardless of age, you can consider the following factors to help you decide when it's the right time to move into a retirement community:
Low-Maintenance or Maintenance-Free Lifestyle
Often the biggest indicator of when to move into a retirement community is when you can no longer perform simple household chores, and the upkeep of your home becomes a burden. This could be from limited mobility, pain, injury, or other health issues. A retirement community offers a low-maintenance or maintenance-free lifestyle to remove these burdens.
Support for Your Physical, Emotional, Social, & Spiritual Well-Being
Retirement communities can help provide:
A healthy, active lifestyle
Support mental and emotional needs, such as anxiety or depression
A meaningful and purposeful life
Social interaction
Live in a Community with Shared Values and Interests
Retirement communities offer many opportunities to socialize in exciting and engaging events and daily activities.
Help with Your Medication Schedule
Retirement communities help manage your medication schedule to help ensure you get the right medications at the right time and monitor for adverse reactions.
Quality Health Care
Retirement communities can determine the level of care you need and provide around-the-clock care, regular physician visits, and regular monitoring if you have a health condition.
Therapy
Retirement communities offer physical, occupational, or speech therapy to residents who may have lost essential motor functions. Recreational therapies can be included to support medical services.
Safety, Security, and Peace of Mind
If living safely at home is not possible anymore, retirement communities can provide 24-hour on-site staff and wellness checks.
Care You Deserve at Any Age
Your retirement is a personal decision, and so is when you move to a retirement community. Your decision should be based on your needs and lifestyle.
Moving into a retirement community earlier rather than waiting for your health to take a critical turn can provide many benefits and significantly increase the quality of your life.
Schedule a tour if you're interested in exploring All Saints Senior Living and our different lifestyle options.